LANDSCAPE MAINTENANCE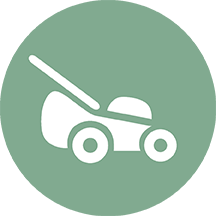 His Hands Lawn Care & Services maintains over 250 commercial landscapes in the Pacific Northwest. We understand that these days there is more importance placed on the appearance of private, commercial and government property than ever before. The "curb appeal" of a commercial property adds enormous value to that property, attracting good tenants, creating an inviting environment for customers, visitors and employees and making it a great place to work or live. Our state-of-the-art technology ensures a winning landscape that looks like a work of art. Our comprehensive services and delivery capabilities will keep your property's landscape in beautiful condition year round, so the value is maximized, leaving you free to focus on other aspects of your property.
Our care and management services include landscape maintenance, hardscape maintenance, for a wide range of property types that include Commercial, Industrial, Municipal, Apartments, and H.O.A.s.
Here are some of the reasons why you will want His Hands Lawn Care & Services to handle your landscape maintenance:
You set a budget, you can depend on us to work within it.
Plan the long term health of your landscape with us. We monitor the site to ensure its health while keeping the environment healthy too.
From the beginning of your project, our experienced employees will make sure that all your questions and concerns are met with expertise.
We set ourselves apart through our use of green and sustainable methods. Our job as a caretaker for outdoor landscapes extends to caring about all of the outdoors.
You will have the same account manager and foreman to supervise and manage your site throughout the entire project so you are familiar with the people working on your site. You are always guaranteed an experienced and consistent crew that cares about you and your landscaping needs.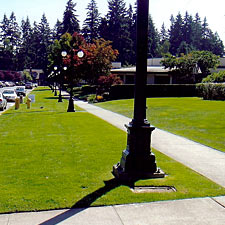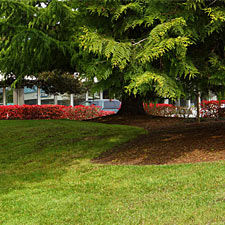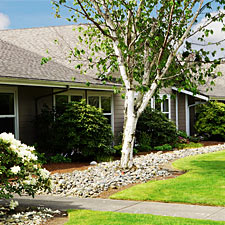 His Hands Lawn Care & Services proudly provides Landscape Maintenance services to these areas in Western Washington:
Kitsap County including Silverdale, Bremerton, Poulsbo, Port Orchard, Gig Harbor
King County including, Shoreline, Edmonds, Shoreline, Everett
Pierce County including, Tacoma, Federal Way, Puyallup
Please go to our Service Area page for a map of our complete service area.
SERVICES
Landscape Maintenance Services
Turf renovation
Aerating
Dethatching
Over-seeding
pH adjustment
Weed control
Site clean-up
Field mowing & clearing
Soil testing
Insect & disease control
Debris removal
Greenbelt & wetland recovery
Control of invasive species
Erosion control
Irrigation system evaluation, repair and activation
Zone control & coverage
Sprinkler head adjustment & repair
Irrigation system winterization
Compressed-air blow down
Backflow testing & certification
Water auditing
Seasonal color programs